Finally, I start a little story about my new car.
After 7 years of owning my lovely white 1993 405 T16, I've had to make a big change and sell it to fund something
more reliable, newer and with more boot space for my bicycles. The T16 went to the UK and I was on a lookout
for a 307, firstly an SW, but then i decided to get an ordinary Estate. I'd gone off of an idea of getting a diesel
powered car and wanted a relaxed drive, so I narrowed my choice to a 2.0 16v with Automatic transmission
and full optional equipment.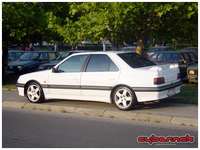 The trouble was, when I entered that info in mobile.de, I found only six cars with those properties, out of more than
1500 307 Estates for sale :wacko:, so when I got a call from someone local who offered me exactly what I'd been after,
freshly imported from SUI and registered (and for a very good price), I've had to take it, eventhough it was the only
"colour" that I didn't want to get, doh.
So there you go, a nice, 5-year old at the time of purchase (a year and a half ago) 307, which is above my average
owned car age by far :lol:.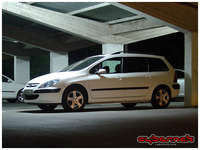 The same colour scheme as the T16, but 10 years, 85 bhp and 2 driven wheels less ;). It's packed with equipment,
starting with a sequental automatic (4-speed) gearbox, ABS, ESP, GPS, GSM, MP3, board computer, automatic aircon,
all 4 automatic windows, electric folding mirrors etc etc, just lacking half-leather seats I've had in all my cars so far :).
After a mandatory checkup, oil and filter change and tracing the horrible knocking sound to one of the ARB bushes,
the car was ready for the road and I was ready to start customising it accoring to my vision of what a 307 Estate was
supposed to look like to begin with :).
Photos here:
http://photos.cybernck.com/307breaknck
To be continued...