This year I've mostly been into cycling and then recovering from a non-cycling injury,
so this project had taken a back seat for a while, but nevertheless, here's a quick update.
I picked up Compomotive MO 7x17" ET15 wheels with 205/40/17 tyres, destined for 205 Mi32.
The 307 looked rather hardcore with it, I loved the looks.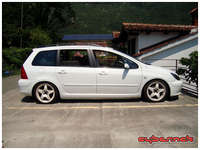 Unfortunately, one of the front shock absorbers top mounts gave up the ghost (and the other
one was on it's way out). It took the wiper linkage out with it as well. I got them changed, but
I'll have to make some custom alloy ones, as the same thing will happen again sooner or later...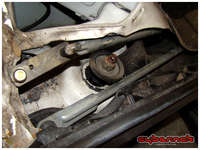 Back on 18's again. This time on TSW's. They suit the car much better now the trim is white.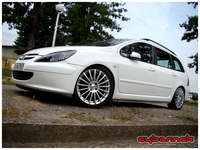 That's it for now but you can expect a few more exciting updates soon :).
Photos here:
http://photos.cybernck.com/307breaknck?page=9