After recently selling my Black 205 GTI 1.9, I haven't planned on buying another 205 GTI but this one was simply too good to pass.
XU9JAZ (1.9 Motronic Cat, 120 bhp). First registered in 1991, but it's a 1989 model. 205 GTIs are very rare in Bosnia (and we're not
able to import such old cars), let alone ones in original unmolested condition, that have never been crashed - actually, this must be
the best example in Bosnia! I wished to have such a 205 GTI but I didn't even know this one existed, up until recently - so, miracles
do happen! :)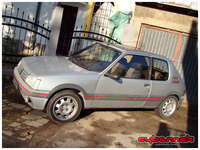 However, the real reason I bought it is a tribute to a silver 205 GTI 1.9, which made me and my father fall in love with 205 GTIs,
20 years ago! You only live once and 205s have been a big part of my life so far, therefore I owed this one to buy it and cherish it.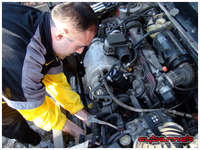 It initially drove like a dream but all of a sudden developed some electric problems, which made it stall upon warm up. After quite
a bit of troubleshooting, I traced it to a duff ECU relay, but unfortunately the starter died because of all the cranking. Not exactly
what I was hoping I'd be doing with my "new" 205 in the first days of ownership :-(. I had to get the PAS bottle fixed too.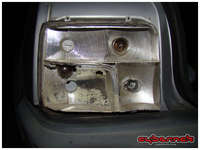 The tail lamps were the biggest bodge-up I've ever seen on a 205 - a mixture of Ph1 electrics, Ph2 reflectors and a Ph2 cover
and no revers lamp! I replaced the tail lamps for Ph1 items. I put some old orange front indicators on it too, for the retro look
and becuase one of the clear ones fell apart. The car back together and it fired up straight away and ran for 20 minutes with
no problems... and then the same problem came back! I was devastated. Spent next couple of days replacing EVERYTHING
electrical. It turned out to be a duff rotor arm in the end.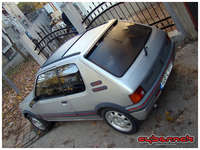 The car got it's first wash, at last! Then it was time for an obligatory photosession. A dull day, but it pics came out not too bad.
As it stands, it's completely original, even has the original faded bumpers, except for the aftermarket lower driving/spot lamps.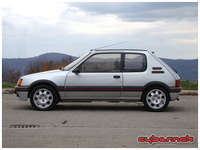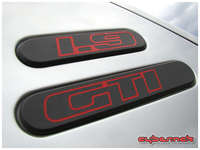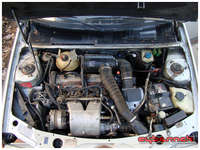 It's got the early interior - to be honest, I've always hated it and preferred the later black/red chequer trim, but it has grown on me,
as it goes really well with silver exterior. No rips, holes or missing bits. Only one of the driver's side seat bolsters is a little bit saggy.
Seats and carpet could do with a wash but that will have to wait for spring.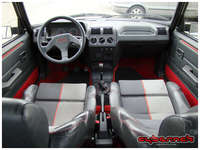 And the small, but all-important, finishing touch!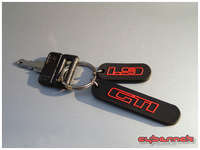 Not quite sure about the plans with the car, I'll give it some more thought and present my ideas later.
Photos here:
http://photos.cybernck.com/205gti999